ElectraTherm

---
ElectraTherm Power+ Generator
Scot Heat & Power is the only Scottish company to offer ElectraTherm's innovative Power+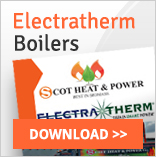 Generator that utilises biomass for efficient clean energy production.
US-based ElectraTherm – a global leader in distributed waste heat to power generation – already has two installations in the UK, but the deal with Scot Heat & Power marks its first Scottish presence, following recent installations in Germany, Italy, Romania, and Japan.
Licensed only to Scot Heat & Power north of the border, the Power+ Generator is a flexible electricity generator that can be used with standard biomass hot water boilers, utilising low temperature and low pressure Organic Rankine Cycle (ORC) and its proprietary technologies for major efficiencies.
The Power+ can also produce fuel-free, emission-free electricity from low grade waste heat, and is capable of reaching outputs of up to 110kWe power generation.