Gouldings Garden Centre
The name in Lanarkshire for quality since 1897
The Gouldings moved to Dalpatrick in 1897 when Joe Goulding grew soft fruit to supply the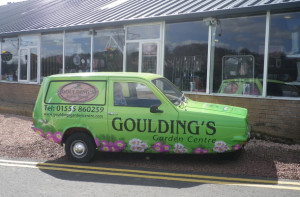 markets. The soft fruits continued until the 1960's when we started to grow lettuce, leeks, parsley, spring onions and a wide range of vegetables to supply Glasgow's Fruit Market. In 1992 they took a very large step in deciding to sell bedding plants direct to the public.
George Goulding is keen for the garden centre to reduce its impact on the environment where possible – and with the combination of rising fossil fuel costs and the introduction of the Renewable Heat Incentive George commissioned Scot Heating Company to install a wood chip heating system for the garden centre.
The Biomass Solution
A Heizomat RHK – AK 205 wood chip biomass boiler with a rated output of 198kWth has been installed at the centre of the garden centres operations in order to meet the heating needs of the garden centre café, oces, greenhouse and two residential properties. The installation compromises of a 4 meter diameter fuel feed agitator system and 4000 litres of thermal storage.
Service and Support
Scot Heating Company and Gouldings Garden Centre entered into an Energy Supply Contract (ESCo) for the supply of heat at an agreed pence per kWh basis providing the garden centre with an approximate 25% reduction in fuel costs. SHC provide complete service and maintenance support for the system to ensure that Gouldings have an uninterupted supply of heat and system support when it is required.
To download a copy of this case study in PDF Click here.