Davidsons Feeds
A family business based in Shotts, Central Scotland Davidsons Feeds is the largest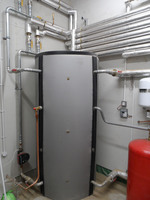 manufacturer of animal feeds in Scotland with a state of the art manufacturing facility.  When constructing a new purpose built office to meet the demands of the expanding business the Managing Director Mr Billy Davidson identified and opportunity to install an Environmentally friendly heating system that will reduce the heating costs of the new office and also generate an income from the Renewable Heat Incentive.
The Biomass Solution
Scot Heating Company Ltd have supplied and installed a Heizomat HSK – RA 60 wood chip
boiler with a 60kWth output rating to meet the heating and hot water demands of the new offices.  A 1000 litre buffer tank has been installed within the plant room.  Installed within a purpose designed plant room and fuel store the system has been designed to receive blown wood chip deliveries.  Through their own operations Davidson Feeds has access to seasoned timber and Scot Heating Company provide a solution of taking round wood from Davidsons and processing this to supply wood chips back to their own installation.
Service and Support
Scot Heating Company Ltd provided complete system training upon handover of the installation and provide a full service and maintenance package with 24/7 stand by and engineers call out should it be required.
To download this case study as a PDF please Click here