Crail Golfing Society
Par for the course


Founded in 1786 Crail Golf Society is the 7th oldest golfing society in the world and members and visitors have been enjoying some of the finest links golf in the world ever since.  The course and clubhouse have grown and developed over time and the society made the decision to invest in a renewable technology to help reduce their impact upon the environment whilst also reducing the annual heating costs.  Due to the nature of the site and the club house a sensitive approach was required to the design and layout of the installation in order to fit into the space available whilst still being practical.  Scot Heating Company were approached by Crail Golfing Society to commission a biomass installation to replace the existing oil heating boilers and complete the Renewable Heat Incentive application process.
The Biomass Solution
A Heizomat HSK – RA 150 wood chip biomass boiler with a rated output capacity of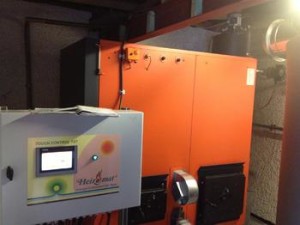 150kWth and a 3800mm diameter fuel feed agitator system has been installed with 4000 litres of thermal storage.  The system is tied into the existing heating system via a brazed plate heat exchanger located in the existing oil boiler plant room.
Service and Support
Scot Heating Company and Crail Golfing Society have entered into an Energy Supply Contract for the continued supply of heat on an agreed pence per kWh basis.  Included within this is the remote monitoring of the system, scheduled fuel deliveries and the on-going service and maintenance of the installation.
To download this case study as a PDF please Click here.